My version of "Stardust" from The Sencalar/Glassman Quintet's visual EP: The Solitude Sessions. 
A quick 15 Second Trombone Tip on Intonation.
Check out the rest of the 15 Second Tip series on Youtube and Tiktok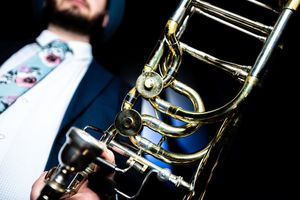 About
Hailed by International Trombone Journal as someone whose " warm sound, beautiful phrasing, and ability to perform in various styles convincingly sets him apart as a truly exceptional musician", Chris Glassman is a rising star jazz performer on bass trombone, and Michigan based musician. He has performed and/or recorded with legendary musicians Michael Bublé The Temptations, The Four Tops, Sarah McLachlan, Kurt Elling, Danilo Perez, Dee Dee Bridgewater, Rene Marie, Wayne Bergeron, Rodney Whitaker, Ulysses Owens Jr., and Etienne Charles among others. 
Raised in Littleton, Colorado, Chris has been passionate and engaged in music since the age of five when he began learning drums from his father. He later transitioned into playing the trombone during grade school, and was enchanted with the instruments gorgeous sound, unique abilities, and outstanding universality. Glassman is deeply rooted in the classical tradition of trombone, having received his Bachelor's in Classical Trombone Performance from the University of Denver. He went on to a Teaching Assistantship and Master's in Jazz Studies at Michigan State University with legendary pedagogues Michael Dease and Rodney Whitaker. Between 2017-2019, during his Master's, Chris was a finalist or won every international competition for jazz trombone in the United States, a feat which he accomplished on Bass Trombone nonetheless. These competitions included the International Trombone Festival's Carl Fontana, JJ Johnson, and Kai Winding Competitions, the American Trombone Workshop Jazz Trombone Competition, Curtis Fuller International Trombone Competition, and the UNT Jazz Trombone Day Competition. He was also a finalist for the U.S. Army Blues Bass Trombone audition in 2017. Glassman capped off his time at MSU by receiving over $3000 in grant funding to create a free performance series designed to engage students age 5-12 in Jazz Music. 
Since then, Chris has been hard at work continuing his upward trajectory in the greater community. He has given masterclasses at the University of North Texas, Ohio State University, Mary Hardin-Baylor University, New Trier Jazz Festival, and for Wisconsin All State Jazz, as well as being a featured guest artist performer at the International Trombone Festival, Midatlantic Jazz Festival, Summer Solstice Jazz Festival, Big Rapids Festival of the Arts, and other acclaimed festivals . His two releases with his co-led ensemble, the Sencalar/Glassman Quintet, has received high acclaim from magazines like Stereophile Magazine, The International Trombone Journal, and Outside in Music. In addition, he is a featured sidemen on recordings by Rodney Whitaker, Ulysses Owens Jr. and Walter White. Also an avid arranger, Chris has recently had numerous commissions for arrangements and compositions by Brevard Music Center, the Dr. Phillips Center for the Performing Arts, The Carr Center, the Wisconsin All State Jazz band, on Posi-tone Records, and for esteemed musicians David Sanborn, Steve Davis, Ulysses Owens Jr, Rodney Whitaker, Michael Dease, Randy Napoleon, and others.
Passionate about igniting students to their path in music, Chris was previously the Arts Entrepreneurship and Career Programs Coordinator at Michigan State University's College of Music. In this work, he focused on helping undergraduates and graduates develop entrepreneurship skills in the arts, including networking, professional materials, online presence, and project development. He also has facilitated entrepreneurship masterclasses with musicians like Damien Sneed, Branford Marsalis, Sö Percussion, and Anthony Davis among others. He continues to teach trombonists of all ages and levels in hist private studio,  and when not performing, teaching, or arranging, Glassman enjoys playing too many board games with his wife Christine, reading, and doting over his cat Muffin.